Dusable Museum of African History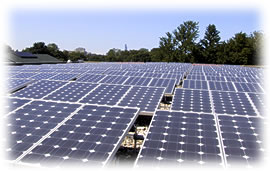 ADDRESS
Dusable Museum of African History
740 E. 56th Place
Chicago, Illinois 60637
SIZE
Roof - 21.6 Direct-Current kilowatts; 18.1 Alternating Current kilowatts
Awnings - 10.8 Direct-Current kilowatts; 9.1 Alternating Current kilowatts
DATA SYSTEM
Spire/Stonewater
TILT/DEGREE
Roof - 10 degrees
Awnings - Nominal Zero Degrees (horizontal)
BRAND
Spire Solar SS75 (75 watts each)
TELEPHONE
773-947-0600
CONTACTS
PARTNERS
Chicago Solar Partnership
ABOUT
The DuSable Museum is Chicagoland's premier African American cultural institution founded in 1961. The museum occupies, since 1973, a Chicago Park District building that was built in 1910 as part of Daniel Burnham's extensive plan of parks and boulevard development. The latest addition to the DuSable Museum was completed in 1993, expanding their space to 53,400 square feet.
The photovoltaic system for this location consists of two components. The larger portion of the system is pitched at an angle on the auditorium. The small portion is horizontal building integrated awnings over skylights thus reducing summer time heat gain.
Tens of thousands visitors enter the DuSable Museum annually. The DuSable Museum has extensive collections of artwork, artifacts and documents of African and African American history and culture. The museum also hosts a wide range of live and media-based performances, lectures and workshops.